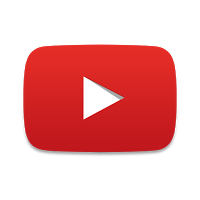 Virtual Bodysex includes 5 one-on-one video chats with Carlin focused on orgasm, overcoming shame, and deepening your experience of pleasure. Sessions generally run for 45-60 minutes each:
Session 1 - Education: vulva styles, internal clitoris, vaginal penetration & pelvic floor muscle
Session 2 - Genital Show and Tell: I will guide you as you view your vulva
Session 3 - The Rock n Roll Orgasm Technique
Session 4 - How to Use Fantasy to Increase Your Pleasure  
Session 5 - Check in to see how you are progressing
Once your orgasm is in place, you'll be invited to join a weekly erotic recess session hosted by me and attended by other Bodysex women and Bodysex leaders.
The price is $600. To sign up:
1. Create an account and purchase a video subscription: https://dodsonandross.com/product/71  There is custom content for you - video and audio podcasts.
2. Send your sex essay described below to admin@dodsonandross.com. Then we'll schedule our first video chat.
What You'll Need
To practice Betty's Rock 'n Roll orgasm technique, you'll need lubricant, a dildo (we prefer Betty's Barbell), and a vibrator.  If you hate vibrators, you can use your hand.
You can use an sort of clean oil as a lubricant (coconut, jojoba or even olive oil in a pinch); we prefer almond oil.  And you can use a vibrator you have or pick up a magic wand on amazon.  Here are links to both:
If you're interested in purchasing a barbell, let me know.  Clients get a 35% discount coupon.   
Buy on Etsy (international orders):
Buy on Amazon: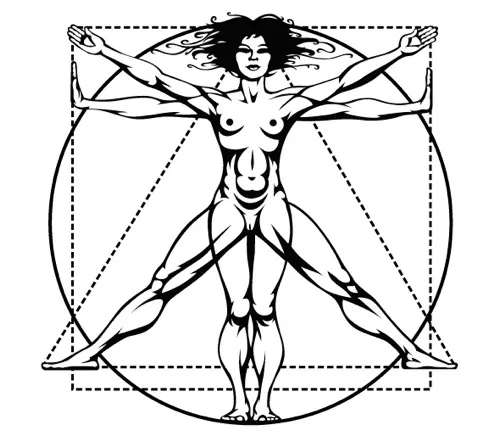 The first step in our online workshop is to write your sex essay.  We rarely talk about our sexual past...without framing our past we can't understand our present or create our future.  

Write a few paragraphs answering the following questions:

• Your religious upbringing; parent's attitude towards sex
• Your first memory of masturbation
• Your first partner sex
• Your current sex life
• Your sex goal - what you desire

Then you'll email your sex essay to me directly and we'll talk through it during our first video chat.

Also, read through the sex feature articles below.  You'll gain a better understanding of the female model of sexual response, try the techniques at home, and have your questions ready for our video chats.


Part of your homework is to do a daily vulva massage.

When we touch ourselves on a regular basis, we sensitize our sex organ to stimulation. If you feel too much, you will feel less. If you feel nothing, you will feel more. I can't emphasize enough the importance - throughout this process - of touching your vulva with almond oil and NOT having an orgasm.

When we take the orgasm off the table, we relax and gain a better understanding of what feels best for us - what parts of our vulva are the most sensitive. There are definite erogenous zones but how a woman likes to be touched is different for each of us.

Below are two guided audio podcasts - the first is 5 minutes of breathing to help you transition from the stress of your day to pleasure. In the second podcast, I take you through the basics....have it playing in the background so I can support you through the process.


There are a Range of Vulva Styles. Viewing Images of Real Vulvas is the Healing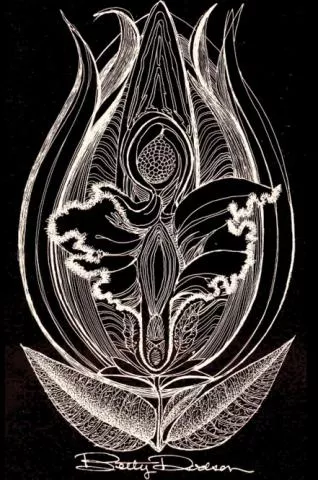 This vulva style has minimal, symmetrical labia and an average sized clitoris. The beauty is the sleekness.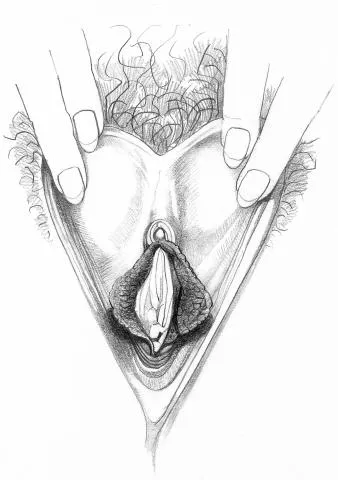 This vulva style has curving labia with and bold oval forms. The beauty is the sense of motion.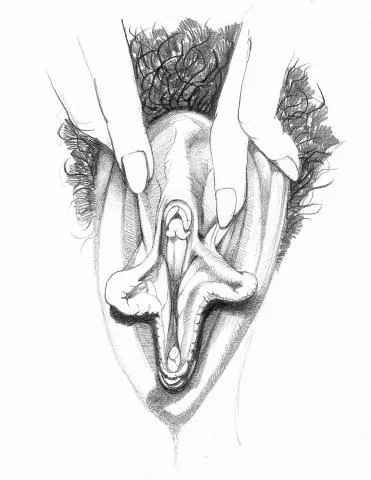 This vulva style is very symmetrical with matching labia. The beauty is the simple lines.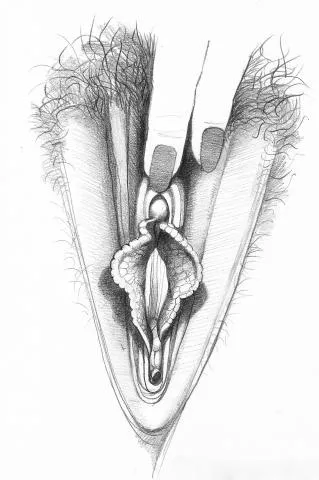 This vulva style has a long, tapered clitoral hood and large clitoral glans like a medieval cathedral. The beauty is the drama.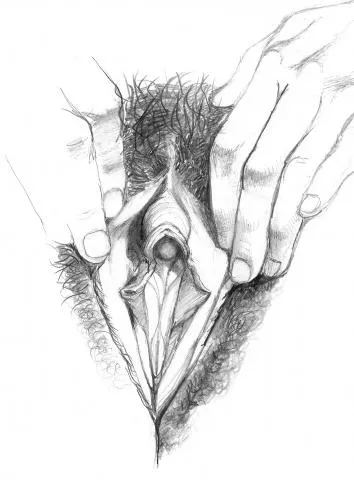 This vulva style is sleek and stylized with labia that flow horizontally. The beauty is the bold lines.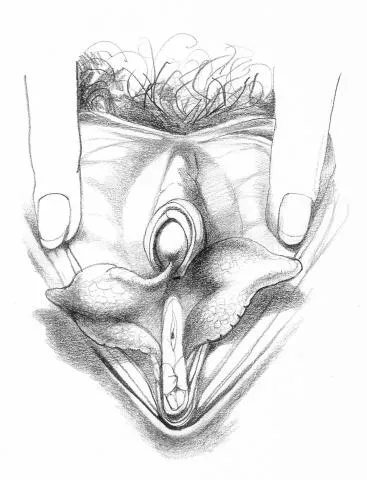 This vulva style has a long clitoral hood and ruffled labia. The beauty is the flowing drapery.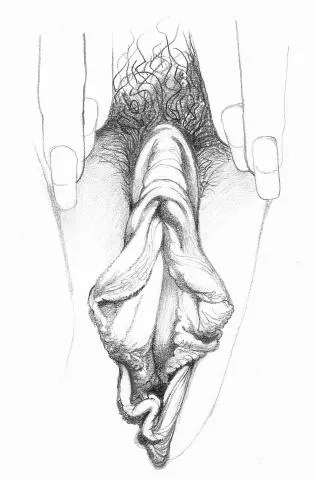 Dangling Asymmetrical Inner Labia
This is my vulva. My clitoral hood is quite long and my right labia is longer than my left labia. She kind of looks like a hooded nun - a cross between a classical and gothic vulva.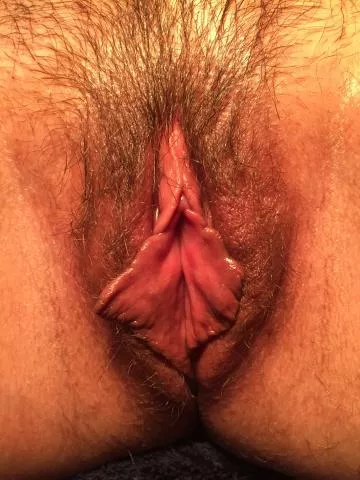 Full Inner Labia Prominent Clitoral Hood
This vulva features long, symmetrical labia with go all the way down and around her vaginal opening. It has classical features with labia that are almost renaissance.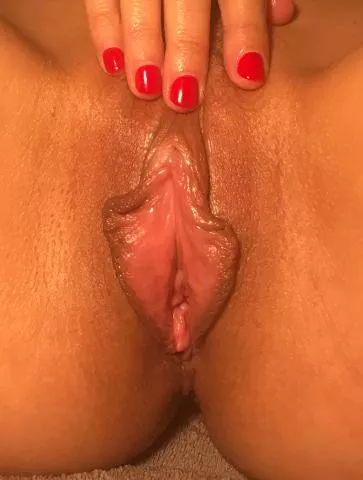 This is the rarest vulva style. The outer labia are puffy and the inner labia are sleek - they don't dangle past the outer labia.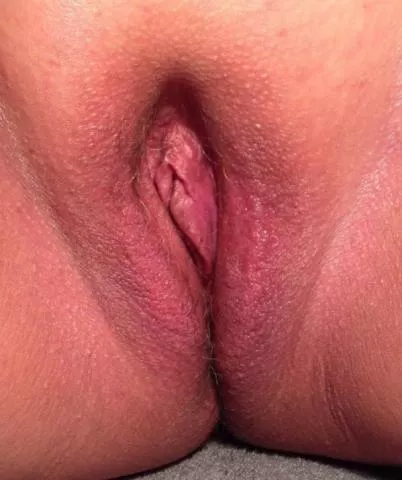 This vulva style features short inner labia that hang inside the outer labia.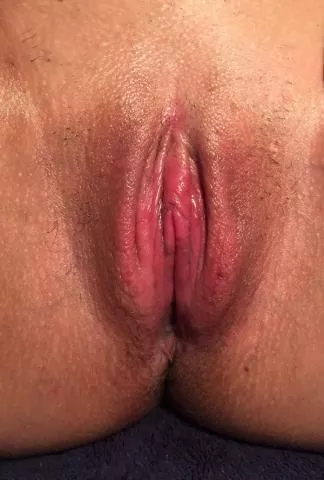 This vulva style features minimal inner labia that run around the vaginal opening. Notice how her inner labia are dark and her vaginal opening is pink.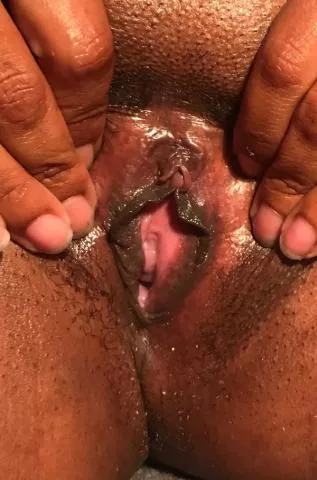 This vulva style features demi-inner labia that stop halfway around the vaginal opening. Notice how her labia have an hombre shading from mauve to brown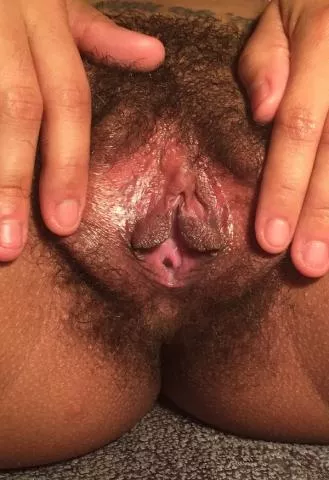 This vulva style is a perfect example of the renaissance vulva with full, cascading inner labia.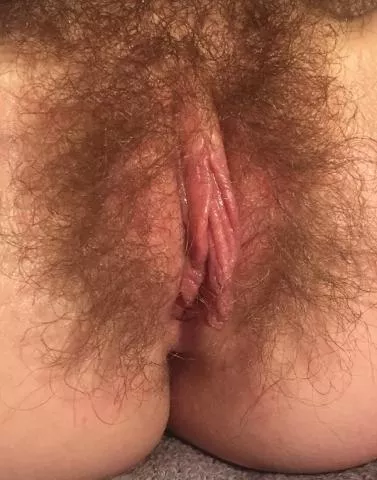 Slim Inner Labia Prominent Vaginal Opening
This vulva style features sleek inner lips - very art deco - with a prominent vaginal opening. Notice how her vaginal opening is a series of folds like a inner rose bud.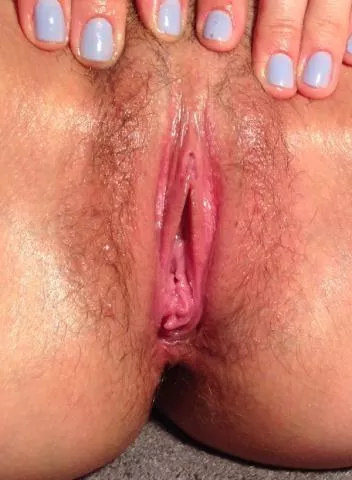 Demi Inner Labia Prominent Vaginal Opening
This vulva style features demi-inner labia that are a beautiful shade of deep taupe. Notice how you can see her urethral opening - that slight circular indentation between top of her labia and her vaginal opening.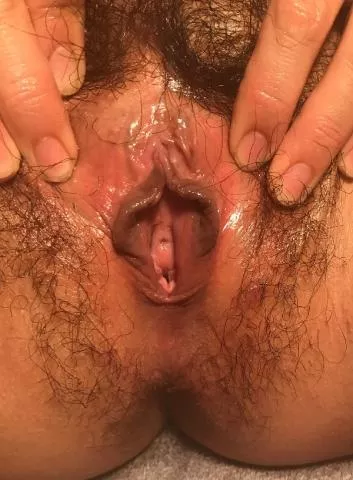 This vulva features very full labia that appear like the petals of an orchid. Notice her long clitoral hood.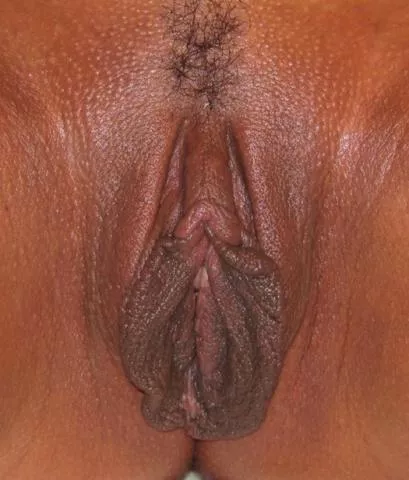 This vulva style is quite symmetrical and petite. Notice the soft pink color in the center of her labia.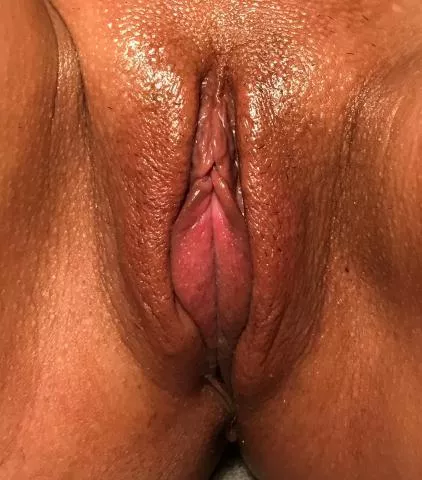 Women Have a Complex Clitoral System. We Need More Time to Achieve Orgasm.
Women have a quite complex sex organ. The "clitoris" refers to the clitoral glans - which has 8,000 nerve endings - but there's much more. Notice the "legs" and "bulbs" of the clitoris.

The "bulbs" contain erectile tissue - we have just as much erectile tissue as men but our erections are internal. Notice the "clitoral shaft" which is like a rubber band. Run your finger from side-to-side over your clitoral shaft and notice the feeling.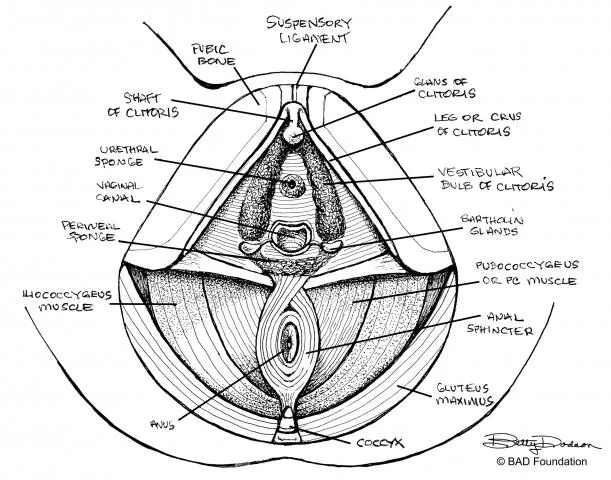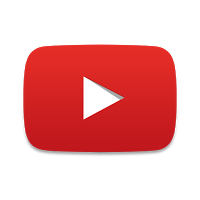 This MRI photo shows the placement of the internal clitoris - the legs run along the pubic bone behind your outer labia and the bulbs are next to them behind your inner labia.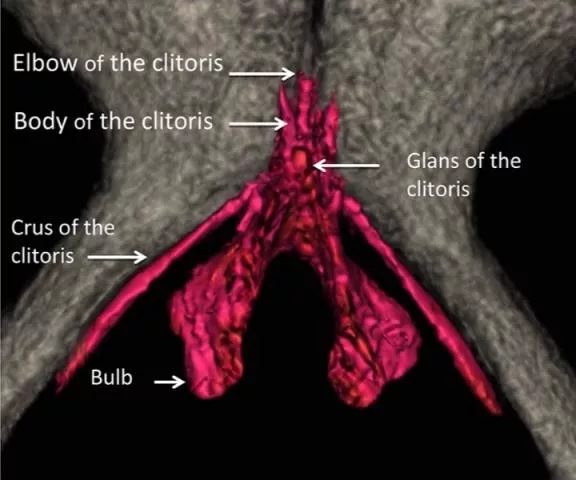 The Combination Orgasm: Clitoral Stimulation with Vaginal Penetration.
The urethral sponge referred to as the g-spot sits on top of the vaginal opening. There is no one spot in the vagina that feels good for all women which is why Betty hates the concept of the g-spot.

The urethral sponge contains prostate-like fluid - about one teaspoon - that is what we call "female ejaculate". The urethral sponge fills up with fluid to protect the bladder from the friction of penetrative sex.

Female ejaculation is a real response for some women. If you stimulate the urethral sponge and push out with your pelvic floor muscle, a small amount of fluid can be released.

Know that female ejaculation is separate from an orgasm. Betty objects to the focus on female ejaculation because it mimics the male model of sexual response (ejaculation = orgasm). The female model of sexual response is much different and more complex - that's why we can have multiple orgasms.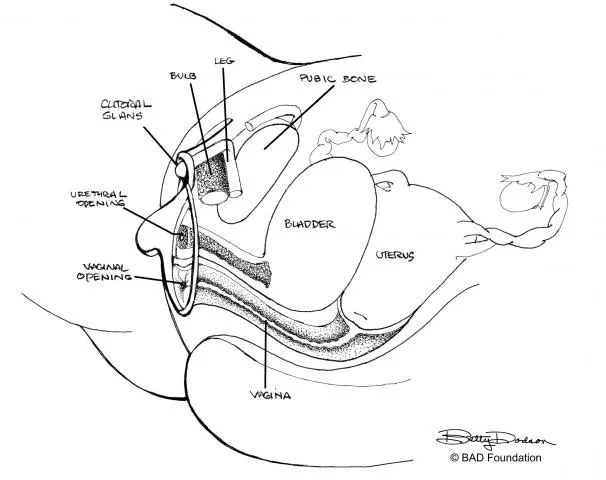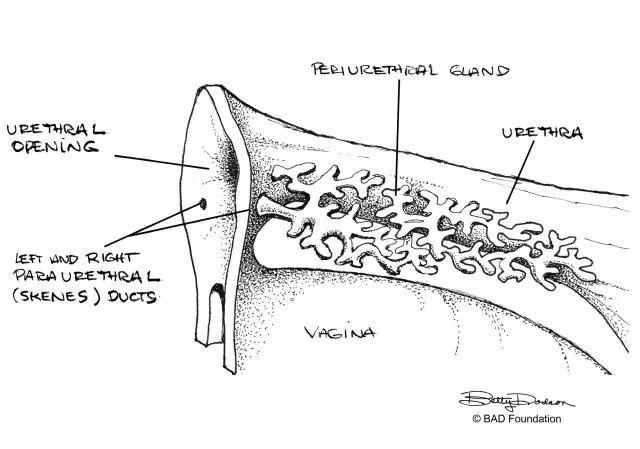 Urethral Sponge w/Penetration
This is an example of penetration with fingers that engages the urethral sponge. Insert your fingers - go 2-3 inches inside - and curl your fingers up toward the ceiling of the vagina and rub softly, you will notice a positive sensation. You can do this yourself by using a curved dildo or angling your dildo up toward the ceiling of your vagina.

The positive sensation can travel up and down the urethral sponge.

Notice how the bladder is right behind the urethral sponge and in front of the uterus which is why stimulation can make you feel like you have to urinate.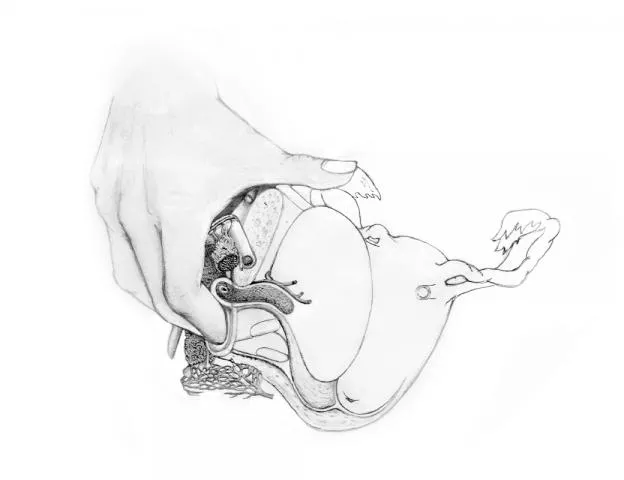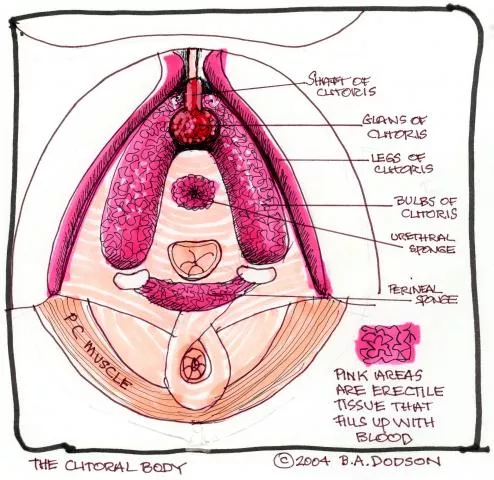 As you practice Betty's Rock 'n Roll orgasm technique, have this podcast running in the background so I can guide you through the process and inspire you to keep going.
Engaging Your Pelvic Floor Muscle Will Increase The Intensity of Your Orgasms.
Your pelvic floor muscle is vital to your orgasm. When we squeeze and release our pelvic floor muscle (pc muscle) we bring blood into our sex organ.

Notice how muscle circles around the clitoris, your vaginal opening and your anus - like an infinity - and the pc muscle is like a sling. To engage your pc muscle, insert your finger into your vagina and squeeze - that's your pc muscle. Clitoral stimulation with vaginal penetration (while squeezing and releasing your pc muscle) = multiple orgasms.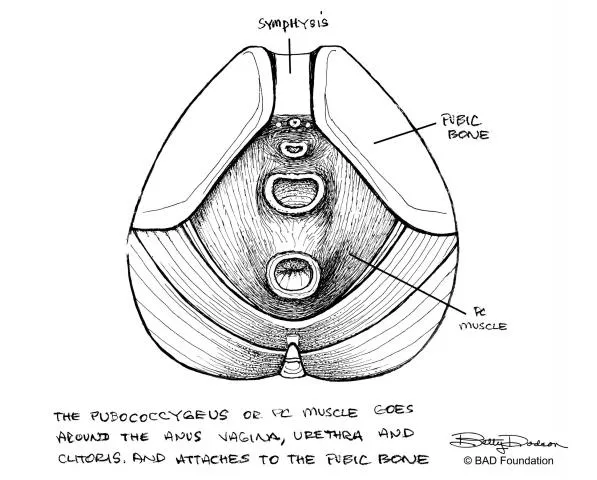 Practice Betty's Rock 'n Roll Orgasm Technique
When we combine clitoral stimulation with vaginal penetration AND KEEP GOING, we build the intensity of our orgasms so that we feel greater sexual satisfaction. Also, this technique will help you have orgasms during partner sex.

I want you to dedicate 20-40 minutes to the Rock 'n Roll. You can use the barbell or even a homemade carrot or zucchini dildo (they didn't have dildos when Betty started the workshops so she used vegetables). The important thing is to combine direct and indirect clitoral stimulation.

Below is an audio podcast where I coach you through the Rock 'n Roll. Let it run in the background as you practice your technique.
Have a Sexual Fantasy While Your Masturbate
Fantasy is the heart of the creative process. When we have a dirty thought, we lose ourselves in pleasure - forget about our daily routines and get in to our body.

There are no wrong thoughts. There is no thought police.

Once you feel confident with the Rock 'n Roll technique, I want you to add a fantasy to your masturbation practice. You can listen to audio erotica if you need inspiration.

The audio podcasts below are fantasies that Betty and I verbalize during erotic recess. The women love it and we hope you do too.


It can be stimulating to hear other women achieve orgasm. During one of our erotic recess sessions, the women wanted to record their sounds so that we could share them with you. Let it run in the background while you self-pleasure.