She Likes Deep Prolonged Intercourse. Would a Dildo Help?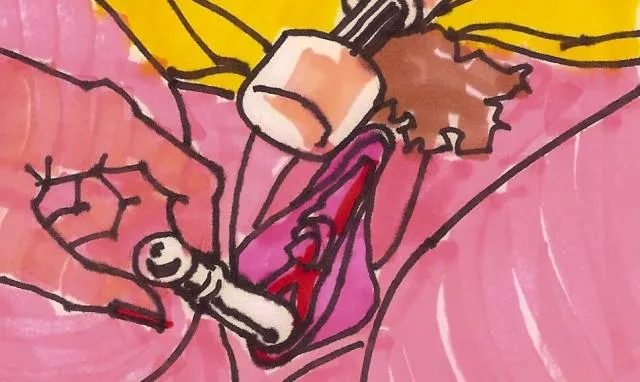 Hello Dr Betty
Have a question for you - not sure how this works on your site.
I have been dating a wonderful lady for the past seven months - she is 49, I am 35. The relationship is fabulous, in all departments. Best sex of my life, she feels the same.
Sexually speaking, we are having a great time. She likes clitoral stimulation has powerful orgasms, however absolutely loves internal stimulation with my penis and fingers - especially deep penetration.
I have good control and stamina, and am finding that she can go and go. These sensations are new for her, and she wants to learn to orgasm internally, so we have been practicing - fingers, prolonged intercourse, etc. The other day she was incredibly close I think - her vagina tightened, puffed, and a stream of slippery liquid came out. But, she did not orgasm and was frustrated. She seems fixated on this as a goal. I try to reassure her it's ok and we should just enjoy the moment, whatever happens. For me it's not important, I just like making love with her.
Seeing that she likes very deep, lengthy intercourse, I am wondering if a dildo might help as a tool we can use together. She is very shy about this, but very keen to explore this. She says that with me this is the first time she has experienced these feelings and sensations. Its also good for me I suppose as its quite a workout with all the positions we are using…haha
Of course this is a turn on for me, but I hope she doesn't put too much pressure on herself, or this become an obsession - I do not stress this as something for her to achieve, but she wants to explore it. I do understand how at 49, to be exploring this new side of her is exciting and empowering, etc, which is wonderful and beautiful. She was married to a loser for 10 years who didn't give her much attention in that department. Just not certain how to proceed as this is new territory for me - most women I have been with have been much younger and not so deeply connected to their bodies in this way.
We could just carry on as we are having a good time, or introduce some toys? She regularly has cucumbers and similar sized vegetables in the house - perhaps I can wrap one up in a condom, make certain its warm, and try it out…She loves to play with my prostate, so perhaps we can explore together.
Any suggestions? I do have to say that I love older women…..wow
Thanks
R
Dear R,
What fun! Yes, more men need to tune into older women who are interested in fully enjoying partner sex. I'm sorry to hear she has become "goal oriented" to come from vaginal stimulation alone. Your dick or a dildo inside her moving with slow steady strokes while you or she stimulates her clitoris at the same time is a winner in my book.
Yes, get a dildo so when your lucky dick wears out the dance can continue. To find the size she prefers, get an organic zucchini and remove the skin but leave some on the bottom so you can hold onto it. That way you can go from big to bigger before investing in a quality latex dildo. A good one is not cheap.
For your anal penetration, a butt dildo has a base so it can't go in too far. It has been known that in our passion, anal dildos have disappeared which is a trip to the emergency room. Always good for a laugh between the interns.
When you say, "a stream of slippery liquid came out, but, she did not orgasm," that'spretty standard for G spot stimulation. It feels good and can accompany an orgasm, but not always. Most women who "squirt" from internal finger stimulation report it's not the same thing as an orgasm. I'm sorry to hear she's fixated on vaginal orgasms as a goal. There is nothing more detrimental to sexual pleasure than having a goal. We miss so much with that kind of focus. Perhaps this will tone down after you've had more sex together. Remember, having sex with her right now is like having dinner with a person who has been starved her lifetime. It all sounds wonderful to me and as more orgasms are shared, more joy will be experienced by both of you.
Dr. Betty
Mentions And Related Topics