Orgy Guilt Because Didn't Share We Have Herpes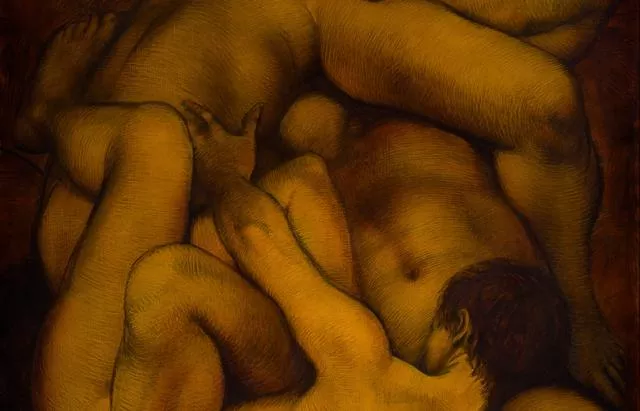 Dear Dr. Betty,
My husband & I both have genital herpes. He is asymptomatic (that is why I contracted it because he was unaware of even having it!) & I have a break out once a yr.the size of my pinky nail. This has never hindered our lives and we have 2 beautiful children.
We entered the swing lifestyle about 6 months ago. As moral people, we both agreed before any sexual penetration we would tell the couple what we have & let them decide for themselves. We are not into "booty calls;" but rather want an ongoing friendship AND a sexual relationship with another couple. People we can converse with & go out to dinner with, etc. We have articulated this in our profiles on the 2 swing websites we belong to. People have responded to us and have genuinely liked us upon meeting but when we told them that we have herpes it was a deal breaker (the men didn't care but the women did).
So even though we are "in" the lifestyle I only had sex with one man (he didn't care that I have herpes) but my hubbie hasn't been as fortunate. Having said that last night we were invited by a couple we never met but have e-mailed to a small swing party with 4 other couples. This couple didn't know we have herpes and we did not know any of the other couples there. Although my husband & I have this moral pact about telling before sex, one thing led to another & before we knew it, it was one big naked orgy. We have never experienced anything like that & while it was a little scary it was also very exciting! Of course we used condoms & I didn't allow the man I was with to go down on me, but my husband allowed 3 different women to give him a blow job without a condom but he had sex with a condom).
While my mind was saying one thing my body was saying another. Although I am not experiencing my once a yr. break out, I now feel horrible that I wasn't honest upfront and wanted your opinion on how to proceed from here. You must know, that although everybody there was decent & nice in reality my husband & I didn't feel we really clicked with any of the couples outside the bedroom, that is, they wouldn't be our ideal couple to maintain the close friendship we are seeking & have articulated in our profile. Since some of the couples know our screen name, if they contact us should I tell them? Should I just ignore their e-mail?
The swing lifestyle is small & people talk, so I'm nervous that if we do find our ideal couple (who we would inform of our herpes) maybe down the road they will find out what we did that night...had sex without telling people first of our herpes. I hate that herpes carries such a stigma! Your opinion? Do you think we're horrible people for doing this? Also, what is a way of broaching the subject & any advice on HOW to tell people? In the past we have said something like,"We really enjoy your company so we want to be honest with you & let you know we have herpes. it effects people differently, we have the most minimal degree..I get it once a yr. while my husband never has any symptoms. if you have any questions please ask...we understand if you're uncomfortable with it..." something like that.
Dear SS,
I abhor how our society has turned Herpes into an STD. In my mind it's the same as a cold sore on my mouth which I had when I was younger. My first genital Herpes outbreak was in the seventies. If you didn't have Herpes back then, it meant you weren't having sex. It was more like a badge of sexual abundance.
I too have gone go for years without an outbreak. When Eric and I first began to have partnersex, I never mentioned my Herpes as it had not shown up ages. When it re-appeared he was very upset at first. But after living together for the past ten years, he has never contacted it. For a while he took Valtrex which I believe is a huge rip off by Big Pharma. at $300 a bottle. The way to handle it in my opinion is don't have sexual contact when there is a blister.
Both of you are being very fair but I believe overly cautious. At some point we will understand that our fear of Herpes is just another way religion and government controls our sexual behavior. Personally since you both are such Herpes light weights, I'd say nothing unless you are asked. Let me know when you've found you ideal couple and how you ended up handling it.
Dr. Betty
Mentions And Related Topics