Need Oral Sex Tips for Curved Penis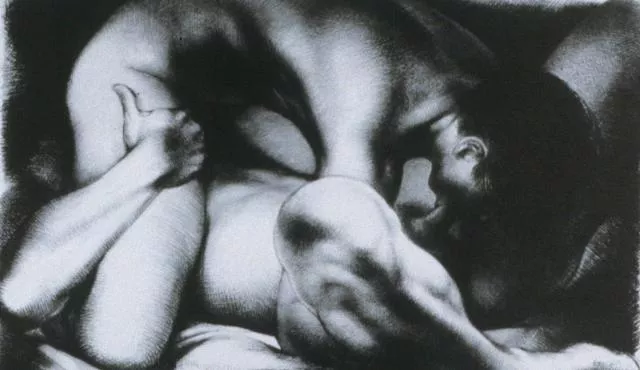 Dear Dr. Betty,
I have a new partner who has an significantly upward curved penis and I don't know how to perform oral sex.
He is a very attentive and pleasing partner. As we have only had sex a couple of times and are working through another issue, I am reluctant to talk to him about this ... yet although I agree that communication is key (and we do but I don't want to discuss this yet from concern that it may impact on another issue we are working through (ED!)).
Due to quite a significant upward curve (once hes quite hard and almost fully erect his penis curves back enough to touch his stomach) I am finding it difficult (read impossible) to give him a BJ. It starts off well as his flaccid or semi-erect penis is straight but as the erection increases, so does the curve! The problem is that when it is straight I can take him in the mouth but the curve makes it difficult to continue, especially if I have paused for a nano sec to switch positions (hand to mouth or mouth to hand) or even if I take my mouth off it just for a sec to change positions.
I cant then get it back in my mouth. This is difficult if I'm kneeling in front of him or even lying alongside due to the curve.
I even find giving a hand job difficult as my hands don't go up and down but need to ride the curve. I suspect lube will help here which I haven't used yet (as he is a new partner and I didn't have any with me at the time but used my saliva instead).
Please provide me with some advice on how to give him a great bj given his curvature (right back to touch his stomach). I'm keen to pleasure him this way the next time we meet as he is very attentive and pleasuring to me.
Thank you
Dear P,
Using some kind of additional lubrication for BJ by either hand or mouth is VERY important. Keep your hand closer to the base of his penis and play with the head of his cock by sucking and licking with just your tongue while the other hand moves as much at it can. You know, communication about this just might be very healing for both of you. Instead of acting like his dick isn't curved, making a light-hearted comment would break the tension you feel and I'm sure he feels also.
Try fucking doggie style and see if his curve isn't simply delicious as it rubs past your sensitive vaginal ceiling with the engorged urethral sponge just on the other side. In our efforts to protect the male ego, we weaken them. Speak up and have a conversation about his obvious curvature. He might have some suggestions as to how you can please him even more. Right now, you're acting like a silly romantic girl expecting yourself to read his mind. Words my Dear, words. They make understanding far better which will in turn enhance any sexual exchange.
Dr. Betty
Mentions And Related Topics