I'm Unable to Climax Without a Vibrator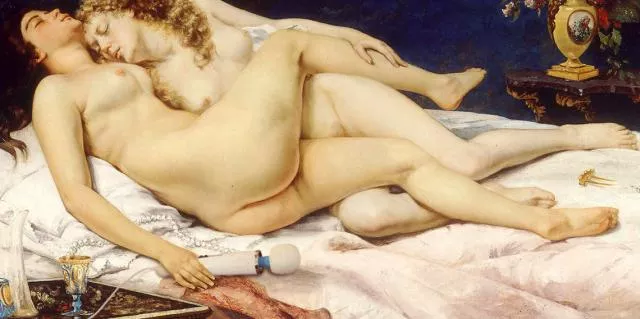 Hi Dr. Betty,
Oh, where to begin. At 27 years old, I have sort of given up on myself. I have been sexually active for about a decade and have been in loving relationships with different partners. I consider myself quite a sexual person, comfortable with my sexuality, etc. But I am unable to climax without a vibrator (both on my own and with a partner). I originally learned to orgasm at a young age using a make-shift vibrator. Now, when I try to touch myself without a vibrator I either a) find it too intense (directly on the clitoris) or quite dull (around the clitoris).
I don't know what to do. I feel anxiety that I will never be able to achieve orgasm with a partner without a toy. I so badly want to. Right now I don't have a partner, and I know the best way to achieve orgasm with a partner is to do so on my own first...but I just can't seem to.
Is it possible that it's not possible? Should I be seeing a doctor? Do I need to stop using my vibrator to resensitize myself (I fear the answer is yes but it makes me anxious to feel like it will never happen and I get sexually frustrated).
Truly, any guidance you can give me would be so much appreciated. I feel deeply sad about this issue and have for quite some time.
With thanks and appreciation,
R
Dear R,
If you want to continue to grow sexually with or without a vibrator, you cannot give up on yourself. So put away all of those feelings of "self pity" and toughen up! Was your childhood "make shift" vibrator a Mickey Mouse electric toothbrush?. And you thought this was such a big secret?
OK. Ask yourself a few questions. Why do you REALLY want to get rid of your vibrator? Most girls say it's because their boyfriends feel it's his responsibility or "job" or "divine right" to "give his girlfriend an orgasm."
Meanwhile I believe and teach that we are each responsible for our orgasms! Think about it. He has complete control over how he handles his penis in terms of angle, rhythm and depth once it's in your mouth, vagina or anus. You become a vessel that accommodates his dick which will naturally ejaculate (often too soon) and of course, your moist warm vagina is the ideal stimulation for him.
So what about your orgasm? He gets his from you and now he wants to give you your orgasm because that proves he's a sensitive, thoughtful, lover. (You can supply endless adjectives here). Here's the problem. We are still using the male model of sexual response and applying it to women, but it rarely works for us!
Very few women have vaginal orgasms. Yes, I had some in my youth by getting on top and running the fuck. I'd do a grinding motion that pushed my clitoris into contact with his body. NOW if he could stay hard for 15 or 20 minutes, then I'd get off too. Actually a 30 minute erection was best, but they're very rare indeed! Especially with young horny men who are jerking off way too fast while watching porn. So I say as long as he has his porn, you have your vibrator which kinda evens up the score.
If you STILL want to get rid of your vibrator, give it away and prepare to practice manual clit stim for many months without getting off. If you keep your vibe, you will discover it's a big relief to end with "old faithful" but then you're just kind of torturing yourself by withholding the stimulation your body desires. And after all this effort to retire your vibe, by the time you're in your mid to late thirties, a vibrator really aids women's orgasms. By the time you're in your forties, it's a given and closer to menopause it's a necessity! You choose!
Dr. Betty
Art courtesy of http://magicwandarthistory.tumblr.com/
Mentions And Related Topics