"How Violent Sex Eased My PTSD"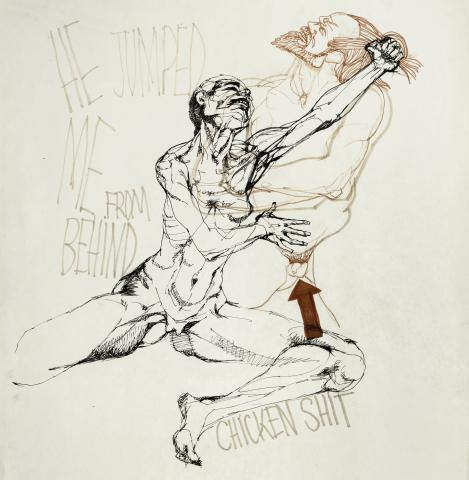 Mac Mcclelland is a journalist. She spent several months interviewing rape victims in Haiti and developed post-traumatic stress disorder (PTSD) - not good for a journalist. Therapy...yoga...nothing worked.  Mac describes how violent sex helped ease ger PTSD:
"We'd done this sort of thing before. But at dinner I'd told him, voice shaking, about my PTSD. This time, the fight would be rougher and the stakes higher. And so he paused. "Okay," he said. "I love you, okay?" I said, I know, okay. And with that he was on me, forcing my arms to my sides, then pinning them over my head, sliding a hand up under my shirt when I couldn't stop him. The control I'd lost made my torso scream with anxiety; I cried out desperately as I kicked myself free. But it didn't matter how many times I managed to knock him over to the other side of the bed. He's got 60 pounds on me, plus the luxuries of patience and fearlessness. When I got out from under him and started to scramble away, he simply caught me by a leg or an upper arm or my hair and dragged me back. By the time he pinned me by my neck with one forearm so I was forced to use both hands to free up space between his elbow and my windpipe, I'd largely exhausted myself.

And just like that, I'd lost. It's what I was looking for, of course. But my body—my hard-fighting, adrenaline-drenched body—reacted by exploding into terrible panic. The comforting but debilitating blanket of tension that'd for weeks been wrapped around my chest solidified into a brick. Then the weight of his body, and of the inevitability of my defeat, descended on my rib cage. My worn-out muscles went so taut that they ached. I stopped breathing.

I did not enjoy it in the way a person getting screwed normally would. But as it became clear that I could endure it, I started to take deeper breaths. And my mind stayed there, stayed present even when it became painful, even when he suddenly smothered me with a pillow, not to asphyxiate me but so that he didn't break my jaw when he drew his elbow back and slammed his fist into my face. Two, three, four times. My body felt devastated but relieved; I'd lost, but survived. After he climbed off me, he gathered me up in his arms. I broke into a thousand pieces on his chest, sobbing so hard that my ribs felt like they were coming loose.

In a few months, I'd feel ready to go back to Haiti. It would become pretty rare for a movie rape scene to trigger immediate, whiplash-inducing weeping. The flashbacks and the gagging fits would, for the most part, have ceased. A few months after that, I would report from the Democratic Republic of the Congo, where every interview would be about sexual violence or murder, but I would function just fine. I'd see the French peacekeeper again in another country, where his big weight would feel appropriately weighty as I engaged him in absurdly sweet—like, European-earnest—sex."
I love her honesty. She could have sugar coated it or alluded to the specifics of her violent sex but she put it all out there. There's no shame in talking honestly about our sexuality.  
Mentions And Related Topics