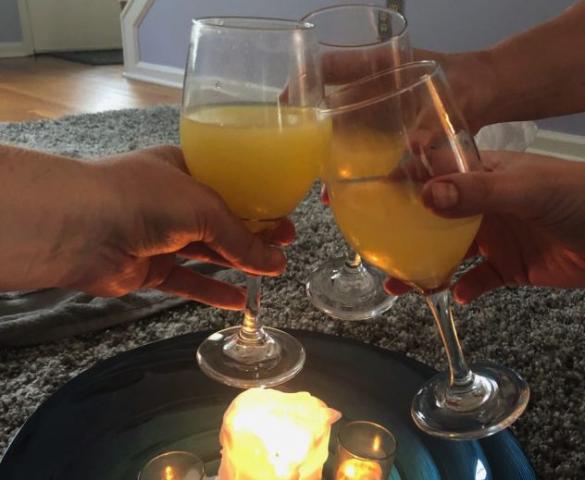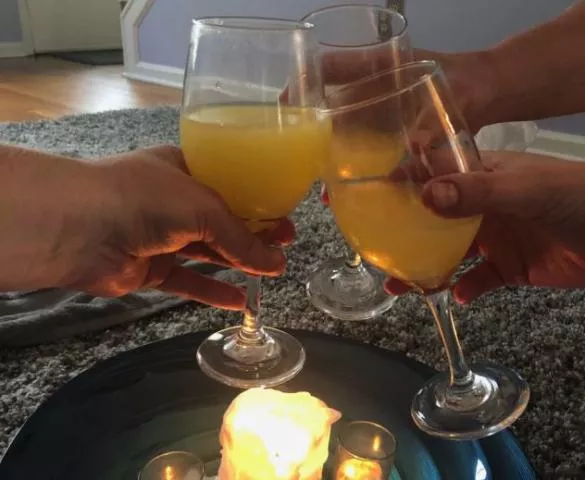 During my last Bodysex workshop, one of the participants had a brilliant idea. We were all talking about how lovely it would be to have more time in the presence of others – comfortable in our nudity, celebrating our bodies, cheering on each other's orgasms – and the idea of a Bodysex Brunch emerged! I loved the idea and decided to make it a reality.
This morning I held the first Bodysex NC Brunch. The event lasted three hours and was open to anyone who has previously taken a Workshop. Just like the Bodysex Workshop, I answer the door nude and everyone undresses as soon as they arrive. This event was a bit more casual though – we started out chatting and eating delicious food – did I mention that it was a potluck brunch? While the Bodysex Workshop itself is free from alcohol and participants are encouraged to avoid altering their experience with any substances, this event was felt more like a party – a celebration of each other – I mean, hey, we all knew we were here to masturbate and what goes better with masturbation than mimosas! We kicked off the afternoon with a toast and the day unfolded from there.
As usual, whenever I'm in a circle of women, especially in Bodysex, I get overwhelmed by how supported I feel. It is amazing to hear what comes out of my mouth because I feel so safe and free to be vulnerable. I also cannot get over how incredible it is to feel so comfortable masturbating with other women. As someone who identifies as queer, this was a challenge for me at first. Did people think I went to my first workshop at Betty's just to get off? I mean, what is sexier than a group of gorgeous women all masturbating together? As Betty says, it started out has her fantasy to have a group of women masturbate, and it certainly was a fantasy of mine for a while. But when I went to that first workshop, my experience was so deeply profound and had nothing to do with my sexual orientation. The best way I can describe it is being in my own space but surrounded by other people.
When I decided to become a Bodysex Facilitator, I worried whether people would think I'm just holding circles to watch them masturbate for my own pleasure. The truth is, I get so overwhelmed with happiness just seeing women owning their pleasure that I often forget about myself. When I am masturbating in the circle, I've got my own scene playing out in my mind – whatever fantasy I have going as of late. Usually women close their eyes, although it is quite exhilarating to watch other women in such a state of pleasure. I find it hard not to cheer on my fellow participants – especially as they are getting close to orgasm!
It is hard to say that Bodysex is not sexual, because it's very sexual, but more than that it is educational and empowering. Sometimes I get questions from people who are trying to wrap their heads around the whole idea. No, women don't touch each other. No, the circle does not break out into a group orgy. The circle is focused on each woman finding her own pleasure – in her own way, on her own timeline, without judgment or pressure from a partner or lover. It is about connecting with our bodies in a way that we don't usually allow time for, in a way that we can't when we are so focused on someone else's pleasure. It's about listening to what our bodies need and want; trying new positions and toys. Not only do we demonstrate several techniques in the Workshop, we are able to watch other women and ask each other questions about what works for them – what a gold mine! When do we ever have the space to talk openly about masturbation?
As Bodysex Brunch continued this morning, we all came in record time. I had been sure to let people know that orgasm is not a requirement and that we have plenty of time. But before I knew it women were breathing heavy and moaning and eventually riding several waves of orgasmic pleasure. After each of us had a few, we just relaxed in the space – taking the time to fully experience the sensations and the warmth of each other's presence. At some point, someone got up for another mimosa, another woman relished in another bite of quiche, and we all talked about how wonderful it would be to have this happen on a more regular basis. Needless to say, I'm already planning the next Bodysex Brunch.
For those of you who have not done the Workshop, or if you just want to come back again, the next one is scheduled for April 13-14, 2019. 
Mentions And Related Topics