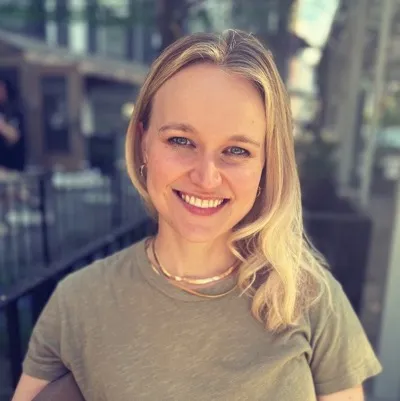 My Bodysex® Story: 
After years of shame, punishment, frustration, a history of childhood sexual abuse, empty and toxic relationships, and no orgasms (to my knowledge), I had my first loving, full body orgasm, solo on a Zoom call with Carlin. Needless to say, it changed my sexual life from the inside out. I no longer needed anyone or anything to "help" or "fix" me. I was freed! By my own body and pleasure. Who knew?! (Betty and Carlin…)

To my greater surprise, the ripple effect of this was so powerful that it was only a matter of time before I found myself speaking up for women at work, fighting for equal pay (which was eventually granted!), healing relationships with my family and partners, and raising the bar exponentially of what friendship and sisterhood meant to me. I became sober (I'm a recovered addict and sponsor) and my health improved to the best condition of my life. I'm 36. And these are just a few examples.
Feeling called to spread the message and pay the gift forward, I immediately asked Carlin, "do you teach people how to do this? I want to become a facilitator!" The rest is history. I've spent the last 3+ years working with Carlin, Laura and the board, as a student, client, and volunteer.
The journey of Bodysex® is so much bigger than orgasm, though that's a pretty great part. It's about the empowerment of self-love, self-trust, and security that comes from putting ourselves first in a way that inevitably serves all. Welcome!
My Approach and Values: 
I aim to make the Bodysex® world inclusive, and accessible to All.
My practice, The Bodysex® Sisterhood is committed to creating sex-positive communities and safe spaces to learn, share, grow, and explore pleasure in empowering ways. All vulva-owners, regardless of how they identify, are welcomed with open arms and revered for their courage to face their sexual selves.
I embrace all sex-positive channels of expression including monogamy & ethical non-monogamy,  BDSM, LGBTQIA+, kink, play parties, shibari… the whole spectrum of our beautifully endless sex-scape.
My favorite thing about sexuality is that, like our spirits, it's ever-expanding. In our work together, all is fair as long as it's done with respect for oneself, and consent with others. 
My sexuality:
I'm a mostly lesbian, pansexual who gives myself the freedom to change my identity as desired. I've been in relationships with men and women, both monogamous and open, and find that ENM is right for me, right now. Recently, I enjoy female-only sex parties, shibari, and am exploring dominant kink. However, I'm always exploring with an open heart, and mind full of playfulness. 
I'm a thriver post incestuous childhood sexual abuse, and have empowerment, love and support to share to all who are struggling with their own trauma herstories. There IS a way out of the pain, into pleasure and into the powerful goddess life you want.

Further, I know I can only give what I've got, so I'm currently continuing my healing through sexual somatic energy work. 
Bodysex Spirit:
I'm also a psychic healer.
I believe our greatest success and happiness are the same: to live a fully self-expressed life. And I've found nothing is as potent to getting us there as the deep physical and spiritual work of knowing our sexual selves. 
While my workshops stick to the sound formula that Betty divined, I'm also available to incorporate reiki energy healing, psychic readings, mediumship, manifestation and other spiritual healing modalities into Bodysex journeys through 1:1 coaching.

Currently Offered by The Bodysex® Sisterhood:

Dr. Betty Dodson's® Bodysex® Workshops – as featured all over this site, and in Gwyneth Paltrow's The Goop Lab, 'The Pleasure is Ours.' Available virtually and in-person, individually and in groups.
Individual Coaching – virtual and in-person. 
Bodysex® Ed. – free and donation-based educational courses for those of us who feel nervous stepping directly into the workshops. Offered intermittently as classes. And available for scheduled individual or private group sessions. 
Bodysex® Ed for Men
Donation-based programming for our male-identifying allies, designed to teach our beloved penis-owners more about their vulva-owning sexual partners. Men are also up against the misinformation and negative myths about female sexuality prevalent in mainstream media. Bodysex® Ed. for Men gives penis-owners a chance to learn accurate, sex-positive information about the female sexual response system, presented by women. Available in groups, individual coaching and couples sessions.
*All in-person services and events are currently offered in NYC. 
**All proceeds from Bodysex® Ed. goes towards our Sisterhood Scholarship Program which covers the cost of workshops for participants  in need of financial support.
About Me:
My "Past" Life through Today
I grew up in Montgomery County, MD outside of Washington, D.C. I went to school in Boston and have lived in Sydney, Los Angeles, and currently New York City. My degree is in film and television. After a short stint working at one of the top 4 major talent agencies, I fell in love with the culinary industry and pursued a career managing Michelin restaurants in LA and NYC. After 7 years and by brilliant chance, I now manage a culinary program at a tech company overseeing programs in London, Dublin, NYC, and Atlanta, fulfilling my dreams of working abroad. (I'm very lucky to have a team so supportive of my Bodysex work, that they once surprised me with vulva latte art!)
Along the way, I studied with numerous spiritual teachers and have over 10 years of experience learning, receiving and channeling spiritual healings and services. In 2021, I opened my own spiritual practice, MB Intuitive Healing, where I work with clients virtually and in-person (Soho, NYC), offering a variety of healing and spiritual growth modalities such as reiki energy healing, psychic readings, mediumship, and spiritual and manifestation coaching, to name a few.
Before and After:
With Bodysex® there is a before, and there is an after. This is why so many of us resist it – we are scared of change. 
As so many of our stories attest, it's more than worthwhile walking through the fear, no matter how intense, to know ourselves, to live from places of self-love, self-trust, and security. 
We're here to support you. We'll hold your hand along the way, or give you space. We'll pay attention. We'll listen and understand, because every vulva-owner has all been through it.
In her recipient speech at Billboard's 2016 Woman of the Year ceremony, global pop star Madonna said, "The only real security is self-belief." 
Bodysex® is a revolution, and we're in it together. 
Morgan Frances Borchardt is the owner of MB Intuitive Healing and Founder of The Bodysex® Sisterhood, working globally, based in NYC.