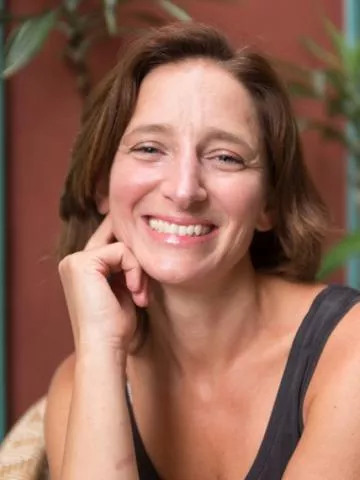 I am incredibly happy to join the Sisterhood of Bodysex Practitioners. Sexual exploration is an exciting journey I have been on for the last 20 years. While I studied a Masters in art education I simultaneously deepened my knowledge about sex education. My thesis was an inquiry into "Art Education and Sex Education - dissemination and implementation of interdisciplinary methods".  Art and Sex are both passages for revealing our unique creativity and expressing our emotions and feelings.
I LOVE WORKING IN THE FIELDS OF ART, SEX & EDUCATION!
My Name is Anna Scheer. I am a 41 years married woman in an open polyamorous, heterosexual relationship and mother of a teenage girl. One year ago we moved from Vienna, Austria to Santa Cruz de Tenerife, Canary Islands. We found250 year old Canarian house, a jewel we named"La Casa Azul'' where I am running my Bodysex Workshops. 
IF YOU ARE LOOKING FOR AN ORGASMIC EXPERIENCE . . .Join the `Orgasmic Retreat´ for 7 Days shared with only women in Paradise!
Come to the Orgasmic Retreat for an ecstatic and fulfilling experience. It will take place in the Canary Islands from the 26. February until 5. March 2022. We will make this experience one which will stay with you forever!
Living on this beautiful island surrounded by nature and the sea provides a wonderful context for experiencing an uncompromising, orgasmic life. The term 'uncompromising' refers to putting ourselves first. Selflove strengthens our core, and when we know what we want, our intuition is switch-on! and we are fully present when we act. Selflove is an embodied practice that has transformed my life.
Visit my webpage for more insights and if you have any questions just send an email to hello@annascheer.com.
Yours, Anna