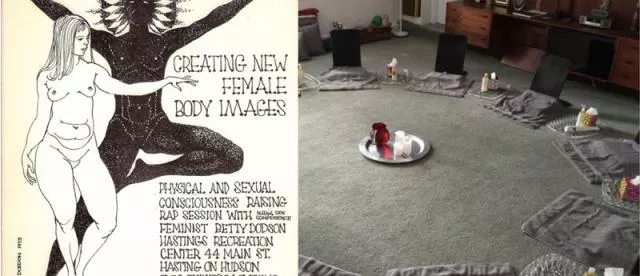 All of our live workshops are on hold until late 2021 due to Covid.  I've launched a virtual Bodysex program where I work one-on-one with clients to get their orgasm in place.  Here's a link with all the information: Virtual Bodysex. If you have questions, you can email we directly at  admin@dodsonandross.com
Bodysex® is a practice designed by Betty Dodson PhD that supports women to connect to their bodies and orgasm to heal shame, enhance pleasure, and encourage selflove. Once we understand basic sexual anatomy, find the parts that bring us to orgasm, and claim our bodies for our own pleasure, we know our true sexual selves. Women have the most sophisticated sex organ on the planet, capable of endless pleasure. There is no failure. The clitoris is evergreen – it never ages – we can have orgasms until the end of life. It's never too late to begin.
Historical Background
Bodysex is based on Feminism's Consciousness Raising model.  Back in the 1970's, Feminism began as a movement with what they called consciousness raising groups.  Women would get together and speak first person about their experience.  What became clear was that women all had a shared experience of inequality, discrimination and sexual repression.  They weren't alone.
Betty was in the same consciousness raising group as Gloria Steinem.  With Gloria's encouragement, Betty signed on to lead "physical and sexual consciousness raising" groups which she later shortened to "Bodysex".  Each of the rituals in her workshop was designed to support women to love their bodies and move fully into pleasure.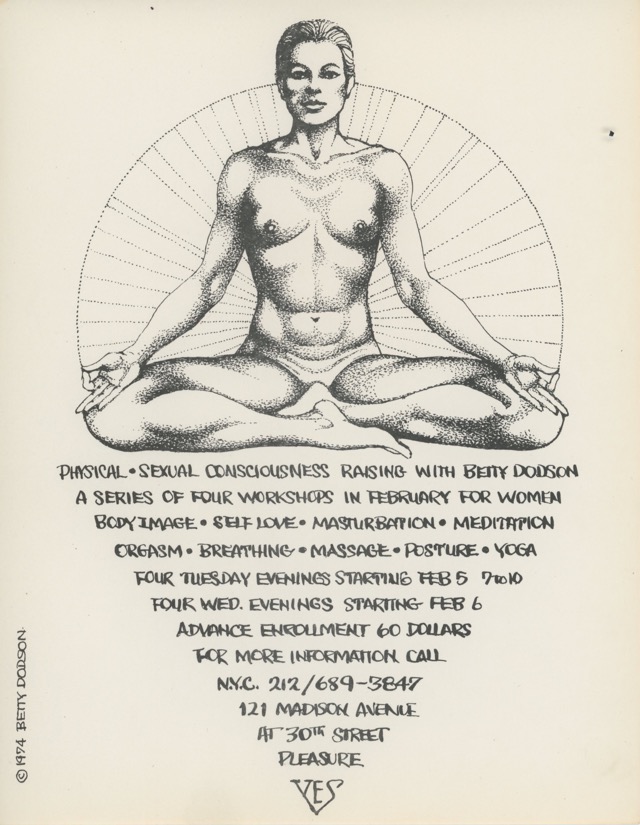 Genital Show & Tell.  During one of Betty's workshops, a woman shared that there was something "wrong" with her vulva - her husband had never seen asymmetrical labia like hers.  The group asked if they could see her vulva to see what she was talking about.  Before Betty knew it, the women were displaying their vulvas and each was different from the next.   More importantly, genital shame was blocking their orgasm.  
This ritual is always a powerful moment even online.  Think about how many times we look at our faces but we never look at our sex organ.  To fully embrace pleasure, we must understand our basic anatomy, find the parts that bring us to orgasm, and claim our body for our own pleasure.  
Clients are guided as they identify their clitoris, clitoral shaft, inner and outer labia, pelvic floor muscle, urethral sponge (the g-spot), and finally chose a name for their vulva.  When we view, touch, and name our sex organ, we take ownership of our body.  Pleasure exists for you and those you choose to share it with....period.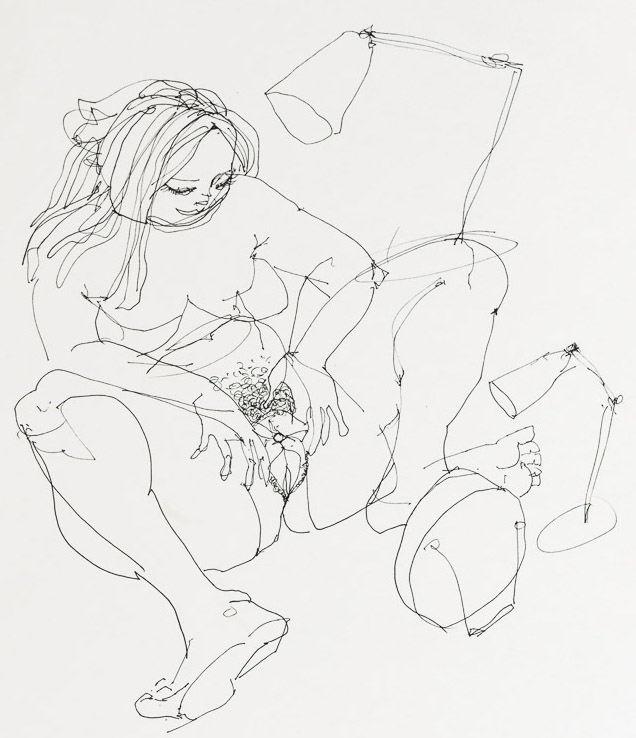 Betty's Rock n Roll Orgasm Technique.  Betty had a celibate period where she would self-pleasure for hours trying different techniques while watching herself in the mirror.  She learned how to build more energy behind her orgasm so that she felt more intensity, more of a release in a position that would work during partner sex. 
The Rock n Roll Orgasm technique is the foundation of what we call the combination orgasm: clitoral stimulation with vaginal penetration.  Clients learn how to stimulate their sex organ, engage their pelvic floor muscle and move energy through their body to achieve their first orgasm or enhance their current orgasm.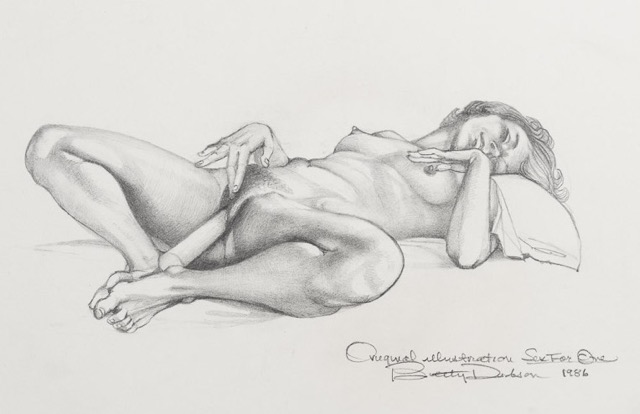 Sexual Fantasy.  Womankind is so repressed that we never have the time and space to develop our fantasies.  We have a complicated sex organ and a complicated mind.  When we can engage our mind with a fantasy, it helps us connect and stay with our body so that we can achieve orgasm and deepen our experience of pleasure.  
There are so many wonderful resources that can help us "stay with it".  Clients interact with different sources of erotica and discuss which is most appealing - a process of elimination to better understand how you're wired sexually and what inspires you.  Audio erotica, visual erotic, written erotica, mirror work, and sensate focus are all options.
All these rituals are learned in an environment of compassion and support.  We have the most sophisticated sex organ on the planet capable of endless pleasure. All women can orgasm.  The clitoris is evergreen - it never ages - you can have orgasms until the day you die.  It's never too late to begin. 
Bodysex is simply a process of self-knowledge.  There is no failure.  We pull back the layers of shame, guilt, misinformation and trauma to reveal your true sexual self.   
Here's a link with all the information: Virtual Bodysex. If you have questions, you can email we directly at admin@dodsonandross.com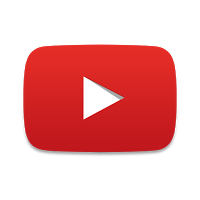 If you would like to start the certification process, everything is on our new dedicated site https://bodysex.com/certification/
Once we receive your donation and completed application, we will review everything and reach out via email to schedule our first video meeting.  
And if you have any additional questions about the process, you can send an email to laura@bodysex.com
Bodysex Certification.  We've started a Bodysex certification program for women who want to run their own Bodysex workshops - live and virtual. There is an active community of "Bodysex Leaders", monthly facilitator meetings, book clubs and social media groups to support your journey. 
Laura Bogush, Rosa Maria, and Celine Manon serve on the Betty Dodson Foundation Board of directors and run the certification program.  
You're required to take one workshop, a second workshop with other women seeking certification, and then write a thesis you'll defend.  Your thesis statement will describe your own sex history, how your family dealt with masturbation, what you believe is wrong with how the culture handles sexuality and what you would do to change it. 
COVID UPDATE.  All our live workshops are on hold until 2022.  Our virtual Bodysex program counts as your first workshop.  For your second workshop, you will be paired with another woman seeking certification with online sessions together with Carlin where you take each other through the rituals: education, genital show and tell, and the Rock n Roll orgasm technique.

The total fee for certification is $4,000 - two virtual Bodysex session fees of $500.00 plus one last donation of $3,000.00.
Mission:

Our goal is to certify women to hold their own Bodysex workshops so that the Betty Dodson method of self-love and sisterhood continues and expands to every country around the world.

When Betty and I first got together, we had this vision of a world map with red lights being illuminated every time someone clicked on D&R. Now we feel that those red lights represent women certified in the Betty Dodson method as each woman holds her own Bodysex workshops.

We will train, certify, and support each woman as she holds these workshops. There will be a learning curve and we will be available for your questions and to give you our feedback. It will take time to build a name for yourself. We want you to be successful and to honor the Betty Dodson brand.

The certification process will take one year to complete if you take a workshop in the Spring and a certification workshop in the Fall (or vice versa) and complete/present your thesis in a timely manner. It's really up to you how long the process takes.

Benefits:

Betty Dodson Brand: All certified members will be granted a license to use the "Betty Dodson" brand in marketing their workshops. Your workshops can be marketed as an official "Betty Dodson Bodysex Workshop". You will also receive the vulva flower logo that is displayed here on the site for your own use.  

Advertising: All certified members will be granted advertising space on D&R.com to promote their workshops under "Bodysex". Your ad will include a description/bio/pic of you and the upcoming dates of your workshop listed by region.

Direct Communication: Carlin will be available by email and zoom with any questions you have during the roll out of your workshops.  

Diploma: All certified members will receive a diploma signed by Betty Dodson and Carlin Ross.

Requirements:
 
I.  Participation in two Bodysex Workshops or two virtual Bodysex programs. You must attend one regular Bodysex workshop and one workshop assembled for women seeking certification. Our virtual Bodysex program fulfills your workshop requirements.  

Several women have asked what qualifies as a financial hardship. Please email Carlin admin@dodsonandross.com with a description of your hardship but know that the following count:

- being a single mom
- serving in the military
- raising a family living on one income

There will be a final payment of $3,000 payable by installments if needed.

II.  Sex Essay. You must submit a sex essay describing the following:

• Your parent's attitude towards sex
• Your religious upbringing
• Your first memory of masturbation
• Your first partner sex
• Your current sex life

III. Interview.  Once you submit your sex essay, you'll have your first interview with us (in person or via skype).

IV.  Completion of Curriculum. You must read/listen/watch the following course materials:

-All of Betty's articles on orgasm:
Betty's Rock n Roll Orgasm Technique
Upgrading Your Masturbation Technique
Penetrating Your Vagina For the First Time
A Woman's Erection Needs 20-30 Minutes of Adequate Clitoral Stimulation
The Myth of the Vaginal Orgasm
-Betty's memoir "Sex By Design" 
-All audio/video podcasts on Bodysex.

-And the following books because we love them:
Sex for One

The Ethical Slut

Sex at Dawn

The Alphabet vs. The Goddess

Buzz: The Stimulating History of the Sex Toy
Ecstasy is Necessary

Opening Up
The Art of Receiving and Giving: The Wheel of Consent
The Function of Orgasm - this is a hard read...it's more about knowing about Reich's beliefs surrounding orgasm because he is the only man who influenced Betty's work.

V. Thesis statement (it's just a long essay).  You must study these materials and write your thesis that will be published online with your consent.  You can write your thesis OR record your voice answering the questions if writing is an obstacle.

Part 1 of your thesis will describe your process of becoming orgasmic and the consequences of sexual repression, more specifically, how the repression of childhood masturbation blocks orgasm.

Part 2 of your thesis will describe your vision for healing human sexuality and how you would end sexual repression.

This is a first person statement that should be roughly 10-15 pages in length. We're not looking for you to cite research or third party sources (although you can use them as a compass for your work). We're looking for you to share your own personal experience - what it's like living in a sexually repressed culture and how you plan to change the world.

You will defend your thesis (in person or via zoom). Think of this more as a conversation than an official presentation. We want to know about your world perspective and your goals.

VI. Donation of $3,000 to the Betty Dodson Foundation.
We will conduct one final exit interview (in person or via zoom). You must be sex positive and have an understanding of group dynamics – we have to believe that you can lead a workshop.  Then you will receive your diploma signed by Betty and Carlin and you can start running groups.

Post-Certification: Upon receiving your certification, we'll post your contact information on D&R listing you as a workshop resource. For your first several groups, you'll have your attendees send us an email describing their experience. This will help us better understand your skill level and what you need to work on.

You will make mistakes and that's OK. We live in a sexually repressed culture and realize you may experience some negative reviews. We understand. We will support you during this process of becoming a Bodysex facilitator.
Some legalese:

Revocation of Certification. We reserve the right to revoke your certification for the following reasons:

• Inability to connect with other people
• Anger management issues
• Sex negativity
• Unclean space
• Not adhering to the Betty Dodson method and principles
• Antisocial behavior
• Multiple complaints from attendees

You will receive notice in writing that your certification is under review. Then, you'll submit your written response and we will issue our final determination. In the event your certification is revoked, you will cease advertising your services, we will delete your ad from D&R, and you will return all certification materials.