Why the Fucking You Get Isn't Worth the Fucking You Get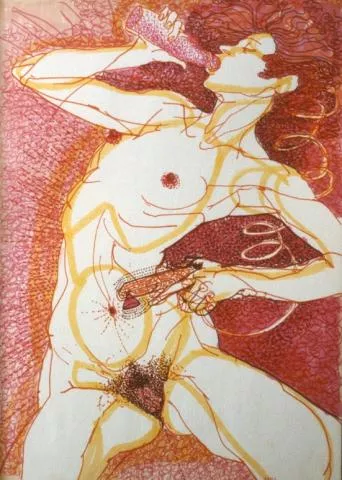 According to thousands of sex questions I've received during four decades, I'm aware of America's profound lack of understanding when it comes to the basic act of heterosexual intercourse. Yes! Something we all take for granted, yet society could benefit from some very basic sex information/education to better understand what actually takes place when a penis penetrates a vagina and begins thrusting. This is the most frequent form of sexual activity that takes place between two people, straight, gay, or bi throughout the world.
My least favorite expression exposing society's tragic and universal repression is when people refer to sex as "sleeping together." However, this term aptly describes most if not all monogamous marriages where sex disappears and couples continue to share the same bed. Today I prefer the term "fucking" which has become universal in every language. The word also expresses a vast range of emotions from "fabulous" to utter "awfulness." Whenever someone says, "Fuck you!" I get out my cell phone hoping to make a date!
First Fact: Penis in Vagina Intercourse (PiV) is a primary sex act for both humans and animals. It's Mother Nature's design to further her species. Therefore, the drive or desire for PiV procreative sex is hardwired in both males and females. We're born to fuck and reproduce except for a minority who remain childless.
Fact # Two: PiV sex rarely, if ever, ends in orgasm for the female. Google lists many different percentages from a variety of sources. Planned Parenthood states that 80% of women have difficulty with orgasm from vaginal intercourse alone. Personally I'd put that at 98% due to a huge number of women faking orgasm. While research is important, it can also mislead. In the seventies Shere Hite's research stated: all women could easily orgasm from masturbation! Yet for the past forty years, my private practice has been based upon teaching masturbation skills to pre-orgasmic women! We are so out of touch that most cannot conceive of a skill set existing for sexual self-touching.
Fact # Three: Even without end pleasure of orgasm, women desire PiV sex. Most say they enjoy the closeness and being vaginally filled by a penis. One friend said PiV sex had its own magic when an unfathomable "chemistry" overwhelms two people with unexplainable force. Women also enjoy the power to make a partner happy or to deny him access to her vagina as punishment. PiV sex can be an exceptional joyful experience while many will go a lifetime experiencing zero sexual pleasure from fucking.
After forty years of teaching women to enjoy orgasms after learning masturbation skills, I assure you the number of pre-orgasmic women is far beyond what we have yet to acknowledge.
Planned Parenthood states 1 in 3 women have trouble reaching orgasm while having any kind of sex with a partner and 80% of women have difficulty with orgasm from vaginal intercourse alone. I believe the percentage of vaginal orgasms is far less due to the vast number of women faking orgasms. Some pretend to come to keep their partners happy. Others want to conceal their lack of sexual skills. My favorite is the woman who said if she didn't fake an orgasm her husband would have a heart attack! He was so committed to giving her an orgasm that he wouldn't stop fucking until she climaxed which she knew was never going to happen.
The following is a recent case study that demonstrates the problem of a young 23 year old wife who has suffered with painful vaginal penetration. "Sex seems great until my husband of six years starts thrusting. I feel a mixture of pleasure, but then soon, a growing tearing and burning pain cuts sex short." The fact her suffering has gone on for six years is difficult to imagine.
"Since I was a child before I even knew what I was doing, I masturbated. She then describes the popular "pillow fuck" when kids put a pillow or blanket between their legs and rock on it to get nice sensations. She never used her fingers for more direct clitoral stimulation that blocked further sexual development. Since her masturbation never ended with an orgasm, she was unconsciously conditioning her body to sexual arousal with no release. Orgasm allows our bodies to go into resolution as blood drains from sex organs; followed by relaxation as all systems return to normal.
At age 16, my first intercourse was rape.
Fact: Nearly every girl is raped with first intercourse through no fault of either partner. We need to acknowledge that "first time PiV sex" is a disaster for our teens. They have no idea what they're doing, other than watching porn that consistently shows an erect penis plunging inside a vagina without any clitoral stimulation or additional lubrication. The two most important preparations for fucking take place off camera. This is to avoid slowing down the main action of PiV sex, his penis going inside her vagina which is the male model of sexual arousal.
Online pornography is primarily based on sexual fantasies of adult men. It shows women urgently wanting his cock inside her hungry cunt! In reality, boys struggle to stay erect while they poke and probe looking for an opening. Meanwhile her vaginal muscles are tight from a combination of fear and pain with no lubrication. Sadly most women have never touched their clitoris and have never had an orgasm. Meanwhile most boys have masturbated and ejaculated watching online porn as their primary sex education.
First problem is that neither the girl nor boy is aware of her clitoris that seldom shows up in porn. Besides unintentional rape, she also becomes a potential victim of an unwanted pregnancy if they haven't discussed birth control. It's a wonder either one would ever "go all the way again." Yet the sex drive remains strong, especially in boys who at least get to ejaculate. So they both will do it again and again while the same disastrous results remain consistent for girls! We know a sure sign of insanity is repeating the same mistake over again and again while expecting a different outcome! That pretty much sums up female sexuality for young girls and way too many women. If this is true for a developed country like America, we can imagine what it's like in poor countries.
At age 17, I started therapy and medications for depression and anxiety.
Here's where medical doctors and psychologists step in for their piece of the pie. This well meaning professional with little to no sex education labels the situation a "disorder" and out comes a drug prescription to the delight and profit of Big Pharma!
Whatever happened to the idea of Puberty? A time of emotional and physical chaos with a surge of powerful hormones rushing throughout young bodies causing all kinds of strange urges sensations and feelings! Girls get their periods and boys ejaculate during wet dreams. This is when masturbation would naturally come to the rescue. However, we are a society of such extreme sexual ignorance we pretend masturbation doesn't exist or that it is a one way ticket to Hell and damnation.
At age 19, I met my husband and for the first few years we lived abroad. We had sex like rabbits, fast and often and I loved it (though I never actually had an orgasm during intercourse.)
Similar to her masturbation pattern of pillow humping with no climax, she's now getting fucked without orgasm. Since their fucking is quick, it's less painful, so she loves it even without the benefits of orgasm which are numerous. Orgasm releases oxytocin, a special hormone that creates emotional bonding. Another important aspect to orgasm is how it drains blood from both engorged sex organs that has created their erections. Without an ejaculation, men call the remaining discomfort "Blue Balls." When women don't have an orgasm, they end up with a pelvic congestion that can take hours before her body returns to normal. Is it any wonder why women are so cranky or irritated after sex when they're left with "Blue Clits?" Unfortunately our discomfort goes unnamed and ignored. As soon as he falls asleep or leaves, a smart woman masturbates to orgasm for her resolution. But for all the young pre-orgasmic girls, she will simply suffer through her pelvic congestion.
Then we had to be apart for 8 months across seas. We jumped into bed as soon as he flew back, but suddenly I had pain. I started dealing with my sexual assault through therapy, but the pain persisted. After doing research and a doctor's exam, I was diagnosed with "vulvar vestibulitis" though now it's lessened to "vaginismus." (Translation: dry, tight, pre-orgasmic pussy of a non masturbating young woman who is getting fucked on a regular basis. Is it any wonder that without additional lubrication and no orgasmic resolution, her husband is unknowingly the rapist?
Once again, the "sexual assault" label is treated with ongoing therapy. Inevitably this will lead to a diagnosis of some "disease" that is simply vaginal sex without lubrication that never ends with orgasm. In order for a doctor to present a diagnosis, they often turn to medical jargon with a label of some mysterious disease, followed by a prescription for a medication that can often make things worse. Finally, her physical body is taken into consideration when she consults a hands-on practitioner.
I saw a physical therapist for a few sessions, and she told me my PC muscles were very tight (too tight!). I've tried getting off certain medications, lubricants, different positions, different toys, different lengths and types of foreplay. Honestly, the only time I don't feel this pain is when I have sex straight from waking up or after I've consumed alcohol or marijuana. I think my problem is a mixture of sexual trauma, my anxiety, and perhaps a lack of longer foreplay sessions.
My online answer: Bingo! You answered your own question. Marijuana is your best medicine and the best exercise for tight Pelvic floor muscles is doing "Squats." Just like women squatting at the rivers edge washing clothes. This will stretch and release some of the tension in your PC muscles. A more detailed description can be found on the D&R website. I believe we are our own best doctors. Listen again to what you said...."the only time I don't feel this pain is when I have sex straight from waking up or I've consumed alcohol or marijuana. Obviously, I think it's a mixture of sexual trauma, my anxiety, and perhaps a lack of longer foreplay sessions."
One current barrier for successful fucking is the huge number of people, young and old of all genders, getting off on porn that's primarily adult men's sexual fantasies. Having this as our primary form of sex education is a crime against human sexuality! Porn stars are paid to cater to men's fantasies by pretending they can't wait to get fucked. There's never additional lubrication applied and nary a clitoris in sight. Our porn actress gobbles up his penis like it's a delicious chocolate bar licking up every drop of semen. In truth, straight men shudder at the thought of tasting their ejaculate and a large number of women, me included, find the taste unappealing. Also porn stars get all kinds of surgery like breast augmentation, liposuction, and laser treatments for all blemishes. Finally surgically trimming inner labia to please those men who want a Lolita, we now have a nation of girls hating the appearance of their sex organ in particular and their bodies in general. It's a tragedy that porn is still America's primary form of sex education!
Next we can add the "Virginity Myth" which is based on a misunderstanding of the hymen which for most women is like a partial soft buttery covering of the vaginal opening. Many women, myself included, have no memory of "breaking their cherry." What a ridiculous concept! The pain women deal with during first time penetration is based upon tight pelvic muscles, lack of additional lubrication, the absence of sexual arousal and fear of pregnancy. Bleeding is caused by small tears in the vaginal lining.
My best fortune was having a mother who believed masturbation was a natural activity for children. My first ongoing high school love affair was spending hours kissing while having countless orgasms from my boyfriend's manual sex. Oral sex was not on the menu back in the forties in Wichita. So my uninterrupted childhood masturbation and first time sex with a partner based upon manual sex made it easy to hold off on vaginal penetration which didn't happen until I was twenty.
Girls must also factor in what boys are dealing with and begin to take care of their own sexual needs FIRST. Masturbating to orgasm right before having vaginal sex is one sure way to make partner sex more enjoyable. If you are unable to tell your lover you want to "warm up" before fucking, just masturbate before your date. The same is true for men. Instead of saving up for the big night, guys will last longer if they masturbate beforehand. Unfortunately, the problem with this positive solution is the big number of boys and men who are dedicated to "making her come." This misplaced need to prove they are good lovers, gives men a sense of accomplishment, not unlike earning a Boy Scout Badge for being "Good in Bed."
Let's face it; most boys and men have little to no idea what "making her come" even involves…other than what they have observed jerking off to porn with all those faked theatrical orgasms. Remember, porn stars are paid to perform. Naturally they become good at faking pleasure with lots of loud screams that signify passion. Unfortunately many girlfriends and wives are also faking orgasms that allows men to believe what they're doing is perfect. The biggest tragedy in all of this is so few discover how special it is to share authentic orgasms! It's a sacred moment of pleasure that brings us closer to ourselves and our lovers, something we all deserve to experience.
It's time to embrace a comprehensive explicit sex education that includes images of sex that are beautiful and honest. The absence of positive visuals plus easily available high tech sex entertainment for men becomes a lethal combination damaging girls and women the most. However, both sexes are victimized by this constant stream of disinformation. How tragic that one of the most dynamic and rewarding aspects of couples bonding through shared orgasms gets watered down by shitty commercial male oriented porn. Shame on America!
Mentions And Related Topics