I Need to Practice Delaying Ejaculation. Should I Cheat or Masturbate?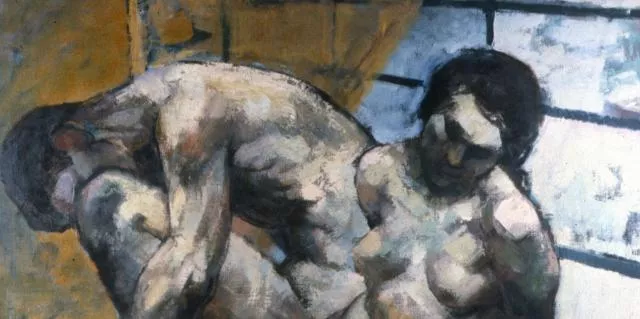 Dear Betty,
Throughout my 18 year marriage with my wife I've been a premature ejaculator (it's been really hard for both of us). The thing is is that I get turned on so quickly (every time I embrace my wife and give her a kiss there's a stirring in my pants - I never have a cuddle without becoming erect (and it's embarrassing to be honest - perhaps it would be less so if I could avoid cumming after 1 or 2 minutes inside her).
I have found that using a delay cream helps and makes sex last a lot longer and much more enjoyable.
The only thing is that she recently had a coil fitted (we were using condoms for a while, which is convenient as that stops her from getting the cream inside her).. now she has a coil she gets grumpy if I want to use the delay cream as I have to put on a condom - or do it in advance & then wash it off before fucking.
Once we get fucking she turns into a beast and it scares me (because it is so difficult not to cum when you're fucking someone who is that horny - yes I get terrible performance anxiety.. )
I love going down on her but she never sucks my cock (maybe 5-10 times in 19 years of knowing each other) We talked about masturbation and there's nothing anyone can tell her that she doesn't know already (apparently).. she doesn't want to play with toys or do fantasy.. and I do, because that counters my anxiety.. how can I get her to be a bit kinky / playful?
I don't want to cheat on her 'for practice' - it's just that she loses control when she goes for it - it's all or nothing with her ... do you think I should go fuck a call girl for practice - or just practice masturbation? I feel like I'm still 14..(I'm 46, 2 kids).
Yours curiuously,
J
Dear J, this is my most FAQ. Sexual incompatibility is a bitch and the fact that you are a fast ejaculatory dude doesn't help. There are women who prefer a man to come fast and get it over with. Others who love to fuck. And of course those women who would do very well without sex altogether.
Since this has been going on for 19 years I say do all that you desire. Your situation leaves you no real alternatives when it comes to a sex hating wife and your fast comes remain. Masturbate for sure, have a massage with a happy ending, and have sex with as many women as you can. Simply tell her about your plan.
Get some sex toys for your masturbation. You must take some sort of action rather than just continuing to endure a sexual situation that frustrates both your wife and yourself. CHANGE GROW QUESTION CREATE A NEW YOU.
Dr Betty
Mentions And Related Topics