How Can I Ease Her Dildo Pain?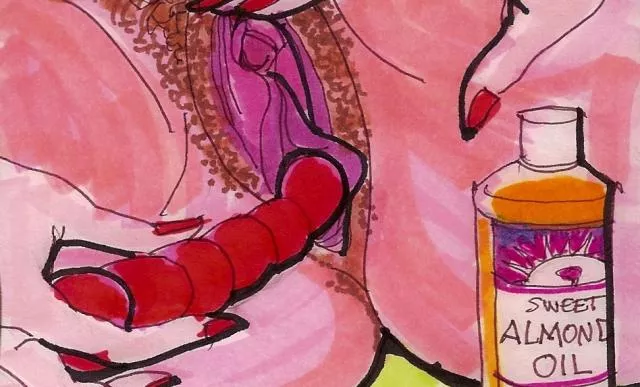 Dear Dr. Betty,
My girlfriend and I have a few sex toys, all different sizes and texture. This is her 2nd lesbian relationship, where as I have had intercourse with a man for over 8 years versus her 6 months.
The issue is that our dildos hurt her and sex with men rarely hurt her. My insecurities are going "shit, she wants a man" ...but, I would like to know what I can do to ease her pain and cause more satisfaction.
I know dildos or even fingers at times hurt me, even when I crave something inside - and I have to have her take it slow. Any advice?
Dear B,
Taking it slow is important AND only adding vaginal penetration AFTER she is fully excited with clitoral stimulation PLUS using some additional lube is what I prefer. Also the size of the dildo matters. Let her chose the size she prefers. And I also think fingers can be better than dildos sometimes if done with style and awareness. No finger banging please unless requested.
I find all my my private clients LOVE my vaginal Barbell when I demonstrate different styles of vaginal penetration while using copious amounts of Almond oil. All of this takes place while she is using a vibrator on her clitoris.
1. Slow and steady in and out. Like a steady drummer. No matter how excited she becomes, I maintain a steady beat.
2. Angled up toward the ceiling of the vagina passing over the Urethral Sponge or "G spot" (I dislike that name as it's a sensation not a spot ) that sits on the other side of her vaginal ceiling.
3. Slow and deep with a bit of pressure touching the mouth of the Uterus (or Oz).
Most women prefer the slow and steady in and out. Communication is as important as additional Lubrication while each woman controls her own clitoral stimulation with her preferred vibrator.
Happy Penetration,
Dr. Betty
Mentions And Related Topics